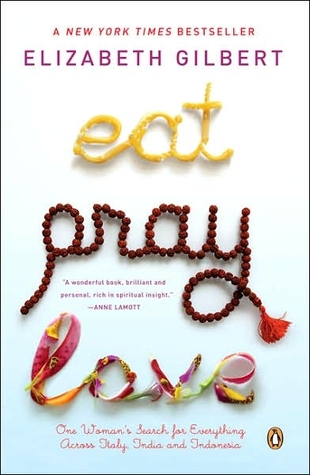 This is my second time reading this book. Well, this time I listened to it instead of reading it and I liked it slightly better than the first time. I think I liked it more because her voice is quite soothing so as I walked to pick the kids up and listened to her tell her tales I felt relaxed. However, her story, I just could not relate to. I mean, I love to travel and experience other cultures, but her views and self-deprecating ways felt so arrogant to me she just rubbed me wrong.
Elizabeth travels to Italy and eats her way in pasta and gelato to heal from a painful divorce and break-up (from a boyfriend after the recent divorce) and then she travels to India and meets a Texas guy and the two of them practice yoga together and heal together through humor and meditation. She ends her story with traveling to Indonesia and she falls in love with an older man. The book comes full circle.
I really don't think Karen would have enjoyed this book. I don't think she would have finished it as she would have been bored with it (and she hated not finishing a book).