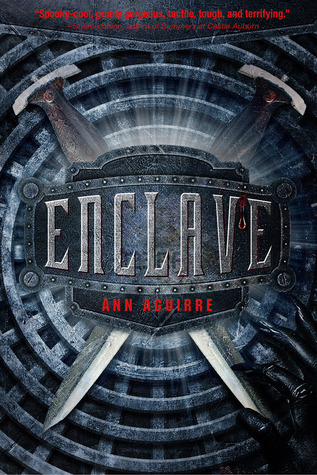 This is well-written post-apocalyptic fiction. The first part of the story takes place in an underground settlement. The residents are divided into three categories: breeders, builders, and hunters. The hunters scavenge for food and protect the settlement from predators; the builders provide everything the settlement needs, from weapons to medicines to clothing; and the breeders provide... the next generation of citizens. If you don't provide something to the community - if you're too old, or too weak, or handicapped in some way - you're a drain on the settlement, and you're banished to the tunnels outside its barricades (where you won't last long, since you'll be attacked by the Freaks).
Deuce, the narrator, is a newly initiated Hunter who has a hard time following orders. To teach her a lesson, the Elders accuse her friend of hoarding; Deuce takes the blame instead, and is banished, along with her hunting partner, Fade. Instead of fighting the Freaks, they decide to take their chances above-ground, in the ruined city of New York. Most of the remainder of the book covers their adventures in New York and their journey out of the city in search of a safe place to live.
I enjoyed the descriptions of each of the "worlds". The author obviously spent a great deal of time researching and thinking about how an apocalyptic event would affect not only the city above, but also the subway tunnels and other underground spaces. (She discusses some of that process in a note at the end of the book.) She also did a good job showing how the collapse of modern society would affect the people that survived - from Deuce's enclave, to the gangs in above-ground New York, to others they meet outside the city.
The story reminded me a bit of Cormac McCarthy's The Road , but is not quite to the level of that book. McCarthy does a better job of showing the emotional and psychological strain caused by the constant struggle for survival - from searching for food and water, to defending against attacks by wildlings and poachers, down to even wondering if things will ever improve.